$cat_sql = "(SELECT * FROM supersmelt_product WHERE cid =0 and pid !='37' where active='A' order by pid) UNION (select * from supersmelt_product where pid='38')";$cat_rs = mysqli_query($connection,$cat_sql);?>

Certifications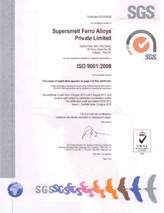 PLANT & MACHINERY
We have invested a substantial amount for under mentioned plant & machinery for smooth handling of our day to day production needs.
Submerged Arc Furnaces.
State of the Art Material Handling Systems.
Grinding Machines Like Pulveriser, Ramon Mills and Disintegrator.
Jaw Crusher to crush the raw materials.
Mixing Machines for uniform raw materials mixing.
Aluminium Melting Vessel.
Manganese Ore Roasting Chambers and Hot Plates.
Charging Vessels and Pits.
Electrical Hoists and EOT Cranes.
Pollution Equipment.
Well Equipped and modern Laboratory...